"Artist gets exposure, agent"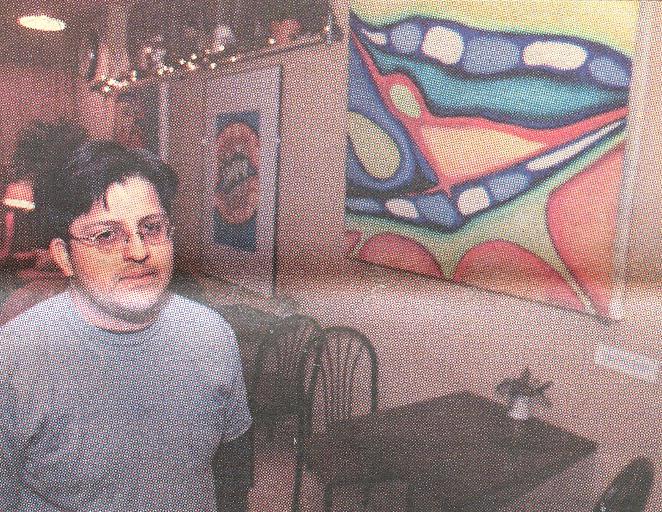 Reprinted from "Live It Up", Dekalb, IL, March 28. 2002, By Bob Crarroll

"Sometimes things just have a way of working themselves out.

By putting his art on the interior walls of a local coffee shop, Rudy Galindo was able to gain the leverage he needed to exhibit his work outside of the area.

With the assistance of staff members from The House, Galindo was able to find a Milwaukee-based art representative to help bring his work to a wider audience.

'They asked me to put this artwork up here," Galindo said as he sat underneath one of his more colorful pieces. "I have had other shows, but I've never had anybody represent me before. So, this is kind of a big deal for me."

Galindo's artwork also has been featured locally at places such as the Egyptian Theatre and the Coffee Gourmet.

He also used to sell smaller, framed pieces at Cracker Jax.

Matthew Clark, entertainment manager at The House, was the one who contacted Galindo about placing his art inside the restaurant.

He said he knew someone who represented Latino artists," Galindo said.

Not long after that, Galindo received a call from Tina Elmergreen, president of in2it international.

"I didn't think anything of it," Galindo said about his first call from Elmergreen.

Galindo's mind was later changed when he got to meet Elmergreen in person.

"She drove all the way from Milwaukee to be out here," he said. "So, 1 was like OK"

Galindo is now in the process of assembling a portfolio. Elmergreen will be showing some of Galindo's work ot tho Conjunction Milwaukee Galleries on April 19.

Not too bad for somebody who used to use just black marker and ink for his art because he couldn't afford anything else.

"I actually sold a lot of those at the DeKalb Gallery," Galindo said about some of his more basic pieces he completed with marker and ink.

When he is not creating art for gallerios, Galindo is away at school perfecting his art in the
kitchen at culinary school.

"In high school, I took an interest (in art)," Galindo said. "I thought I wanted to go into it, but it was just a hobby."

Galindo will graduate in the spring and then will look for a job to use his education. In the meantime, he is going to closely monitor his other career as an artist.

"It's gotten to the point where, OK, I'm serious now," Galindo auid. "It's not because I want to aell them (artwork); it's because that'awhat 1 want to do."

Galindo's artwork will remain on the walls of The to House during the coming months.

"This is a good opportunity," Galindo said about being featured at The House. "'There are It so many people who come into this place."
Rudy is a true thoroughbred artist who loves the pastime of being a musician and claims a living as a graduate of the Culinary Arts in which he is now a practicing Chef.