About In2it
in2it international represents and promotes artists and musicians.
Among them:
Canvas painters, sculptors, muralists
Bands and musicians in all genres
-Latin
-World
-Christian
-Rock/Funk/Pop
-Jazz/Big Band
Workshops/Lectures/Recitals/Residency Programs
Tina Elmergreen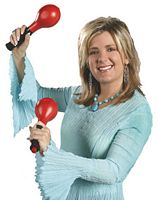 A Milwaukee native, Tina Elmergreen has been an integral part of the local and national music industry for more than a decade. A successful arts/entertainment entrepreneur, Elmergreen has owned and operated her own retail and consulting businesses. She has worked with dozens of nationally-recognized Latin music groups and her firm in2it international represents several Latin American artists, sculptures, muralists, musicians and bands. Some of the more notable groups to date include: Juanes, Victor Manuelle, Rey Ruiz, Lifehouse, Steve Green, Jaci Velasquez and Salvador to name a few. She also serves as the Midwest Market Development representative for campaigns utilized by Clear Channel, Dream Works and EMI Records.

Elmergreen is the originator and founder of the Latin Music Fest and one of the hosts of the Sabor Latino bilingual radio show, the official radio show of the Latin Music Fest, on AM540 since 2002.

Tina also programs Latin music for "Summerfest", the world's largest music festival.
© Copyright 2005-2012 in2itinternational