11.27.2009
| | | | |
| --- | --- | --- | --- |
| Click for larger version | Click for larger version | Click for larger version | Press Release - Tina Elmergreen appointed to leadership role Bridging the Gap - 2012 London - England Olympic Outreach |
September 1, 2009
"Night of Healing & Miracles"

MCA Global presents the 2010 world-wide tour of the "Latin Music Fest" a Latino Cultural Alliance, Inc. event. Over eleven "Country Hosts" will present this two-day festival in their respective countries. Check back with us for additional updates and check out the "Latino Cultural Alliance, Inc." tab for more details on this wonderful festival!
July 4, 2009
Salsa @ Summerfest - 2009 - To see the photos, click here!
June 24, 2009
Get ready to "Salsa @ Summerfest" - 2009



Summerfest continues to "aim to please" and another year is upon us and drawing near! The "World's Largest Music Festival" serves up "Salsa @ Summerfest" on July 4th. Bring the family it will be a great way to celebrate the holiday which will indeed include fireworks!

This year the headlining slot is a show in itself with four of our long-time favorites: Nino Segarra, Tito Allen, Ray Sepulveda and Jose Alberto Canario "El Canario"! Also, world -renown Producer – "Ricky Gonzalez" is directing the show so you are in for some phenomenal performances. To top things off, we have some great local favorites throughout the day leading up to another great group "Jesus Enriquez" kicking things off for the headliners. For a complete listing of all summerfest entertainment, go to: www.summerfest.com for more information. Be sure to scroll all the way down to view this year's flyer!
In case you haven't heard, the Latin Cultural Alliance, Inc. opened up an office in Dallas, Texas. They have partnered with MCA Global and in result, the Latin Music Fest/Latin Christian Music Fest will be world-wide in 2010! Currently "Country Hosts" are in position to facilitate the festival in over eleven countries. Efforts are also underway in syndicating "Sabor Latino" and Cristo "The Rock" radio programs. As always, you can keep up with the LCA by logging onto www.latinmusicfest.com . You will find regular postings are under the "News" tab and Radio tabs. Keep the MCA Global address handy as well: www.mca-global.com


LCA would like to congratulate our Music Director – Pavel Polanco-Safadit on "one of" his latest accomplishments – Kapitulo 1 - Indy's most sought after Latin music group specializing in "Bachata" of course! This Dominican born music thoroughbred always delivers the best in what he does. To listen to sample of the usic, click on to the MP3 links below or go to: www.pavelmusic.net

Click on the links below to listen to music from Pavel Polanco's Kapitulo 1:
June, 2008
Leon Trotsky & Freida Kahlo/Diego Rivera Museum 06-08/Coyoacon - Mexico City
May 1, 2008
October 3, 2007






.: In2itinternational presents "Alex Cuba in Concert!" :.

Alex Cuba performing live at "Rumba"
Date: October 3, 2007
Where: 351 W. Hubbard St. Chicago, IL 60610
Time: 9:00pm
Admission: $15 at the door
or you can log onto:
for advanced ticket purchases at $10

Dime si despues
Vancouver Jazz Festival
August 17, 2007


Click on image for larger view!



¡ Tinita !

Opening early 2008. It is the site of the 2007 Latin Music Fest 500 6th Street, Racine, Wisconsin!

Phone: 262-898-8888
May 1, 2007
| | |
| --- | --- |
| Click on image for larger version! | |
April 21, 2007
| | |
| --- | --- |
| Click on image for larger version! | |
March 30, 2007

Click on image for larger version!
Hi everyone! Check out this seminar that highlights how you can own a condo in Panama starting at $130,000 for a brand new two bedroom! It is a free event but you need to go to their website and sign up. The owners of this Portland company will be there to facilitate all your questions along with Milwaukee's very own "HBC Services".

Check out www.hbcservices.org for great tips on how to own your dream home! Bilingual services available……

When: April 27th
Where: 790 N. Van Buren St. Milwaukee,WI 53202
Time: 6:00pm
Admission: FREE

Free hors d' oeuvres , Live music by Milwaukee's Cuatro player "Luis Lopez" and art exhibits & artists from Puerto Rico, Mexico and Peru Don't forget to sign up! Go to: http://www.panamanianhomes.com/?210
March 15, 2007

Click on image for larger version!
You are going to want to attend this one! This Saturday night CCM artist "Crystal Petrovic" is live in concert with many of the artists featured on her new cd. Mark your calendars for this "free" concert.

When: Saturday March 24, 2007
Where: Christian Life Center / 6363 W. 183rd St. Tinley Park, IL 60477
Time: 6:00pm
Admission: "Free"
September 18, 2006

Click on image for larger version!

Looking for a boost?................This event is sure to lift your spirits to a new levels! Gray's Child Development Center hosts "An Evening of Praise & Worship" Presented by American Family Insurance on October 14th. The event takes place at the Gray's Child Development Center Auditorium located at: 6618 N. Teutonia Ave. Milwaukee, WI 53209.

* Featuring: Contemporary Christian recording artist "Crystal Petrovic" & Latin Christian group "Vision". Be the first to hear songs off of Crystal's new cd!

Appetizer Reception: 6:00pm
Performance: 7:00pm
Admission: $15
September 16, 2006

Click on image for larger version!

Join in on the fun......September 23rd! The Layton Boulevard West Neighbor's will be hosting a "History & Diversity Celebration.......A "FREE" event!

When: Saturday September 23rd, 2006
Time: 10:00am - 12:00pm
Where: St. Joseph Hall - 1501 S. Layton Blvd.

* Keynote Speaker - John Guarda
* Bachata, Salsa & Merengue with 4-K-Torce at 11:00am
* Food, Raffles & Fun for the whole family !!!




Click on image for larger version!
July 20, 2006
Latin Music Fest is September 16 and 17, 2006. Go to www.latinmusicfest.org to see details.


July 8 2006
July 8, 2006 - "Salsa @ Summerfest"

Back stage....
At the concert....
Click here to see photos from Victor Manuelle at 2006 Summerfest, July 8, 2006.
June 30, 2006
Summerfest is at it again! This year they've really outdone themselves and spoiled the Salsa lovers in Milwaukee rotten! Headliner "Victor Manuelle" takes the stage on July 8th! See the flier below for a complete listing of this year's line-up on the Harley-Davidson stage. For a info on all of Summerfest's performances this year, go to:

www.summerfest.com
June 27, 2006
Merengue lover? Come out and see "The King of Merengue". LULAC Presents: Elvis Crespo this Thursday night at the Midwest Airline Center. 8PM - FREE ADMISSION. See this link for more details:

http://www.jsonline.com/story/index.aspx?id=443405 - PDF
June 23, 2006
Michael Stuart in Chicago / June 23, 2006
April 1, 2006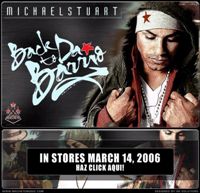 Check out Michael Stuart's new cd entitled: "Back to Da Barrio" in stores now. Click on the photo to go to the website to sample the CD.
February 10, 2006
Hot off the press! "Juanes Auction" Your chance to sit in the front row at his February 25th concert and the opportunity to go back stage and meet him! Read on for more details or log onto www.latinmusicfest.org or tune into "Sabor Latino" AM540 on Sunday nights at 7:00pm. *tickets! *Also, tune into Telemundo starting this weekend, they will be giving away Juanes tickets .
February 9, 2006
News Update: For those that missed the Grammy's on Wednesday night.....Tiempo Libre was nominated for a Grammy . Willy Chirino took the award. www.grammy.com. Tiempo Libre will be back in the Midwest next Saturday night, February 18th at the Hothouse in Chicago www.hothouse.net To see photos of Tiempo's last performance for the Latin Music Fest, Inc. click onto "photo gallery".
February 1, 2006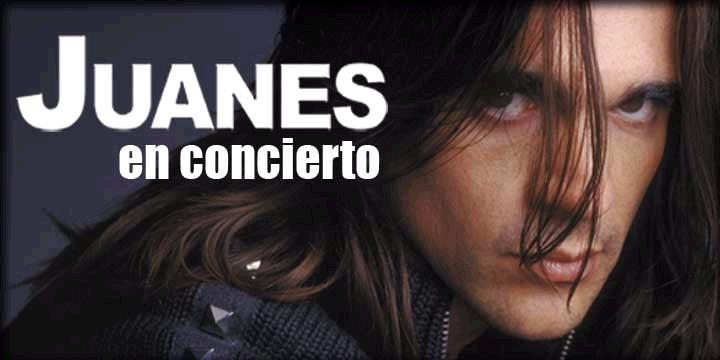 : : : Click here for more information : : :

Mark your calendars and kick off the new year with "Juanes" live in concert here in Milwaukee at our very own Milwaukee Theatre !!! * Tickets are on sale now at the Milwaukee Theatre box office or you can purchase tickets via Ticketmaster

When: February 25th at 8:00pm

( There will be no "opening act", so don't be late!)

* For more information: in2it international - 414-297-9050 or tune into "Sabor Latino AM540" every Sunday night from 7:00 until 8:00pm for more updates.
November 1, 2005
Amateur shots taken by Tina" / October 2005 Luis Miguel Tour
June 1, 2005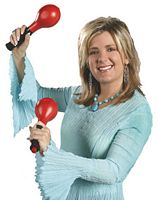 ¡AQUI! Milwaukee featured the Latin Music Fest in their June/July 2005 issue. Click here to view document in PDF format. For more information on ¡AQUI! Milwaukee, go to http://www.aquimilwaukee.com/
April 27, 2005
| | |
| --- | --- |
| Click on image for larger version! | Bridging Faiths |